8 Things You Don't Know About Sapphires
The Precious Stones for those Born in September
Sapphires are complemented with diamonds and white gold to create a beautiful symphony of colors with the indigo gemstone as the center piece. They were once believed to exude heavenly rays. Here are 8 things that makes sapphires exceptional: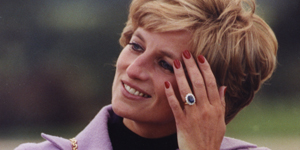 Princess Diana famous sapphire ring

The Royal Gemstone
Sapphires have always been associated with Royalty. Sapphires feature in the crown jewels, such as Princess Diana's engagement ring that was passed down to Princess Catherine had a Ceylon Sapphire.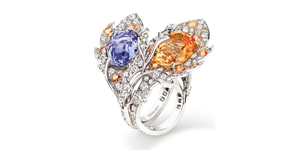 Chaumet Rhapsodie Transatlantique ring with colored Sapphires & diamonds

Charming Blue
The most desirable color in sapphires is blue, and the most desirable shade of blue is referred to as "cornflower blue." Sapphires also come in violet, dark gray, orange, yellow, pink, green and black, which are referred to as "fancy sapphires".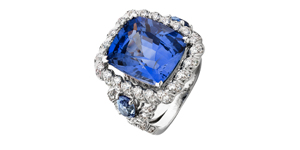 Chanel "Turquoise Waters" ring in 18K white gold set with a cushion-cut blue sapphire of 12.39 cts

Saturday Color
In parts of the East, Saturday was the day to dress in blue and wear blue sapphire. The color blue and the blue stone indicated wisdom, and generous thinking. It is also associated with the study of heaven and the stars.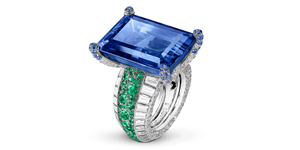 de GRISOGONO – Love On The Rocks unique ring set with 1 emerald-cut blue sapphire  weighing 50.57 cts
 
Stone of Wisdom
The sapphires are thought to bring wisdom and truth. It helps find peace of mind and serenity and promotes a life of sincerity, helping preserve one's innocence while learning life's truths.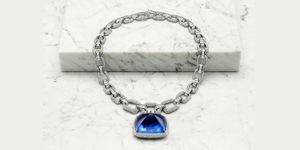 Bulgari necklace in platinum with 1 cabochon Burma sapphire weighing 180.98 cts

Sapphires are Steeped in Myths and Legends
In Hindu Mythology, the Kalpavriksha is a wish-fulfilling divine tree, described as being made up of precious stones. The fruit of the tree are Rubies, the base of the trunk is Diamond, and the roots of the tree are made of precious sapphires.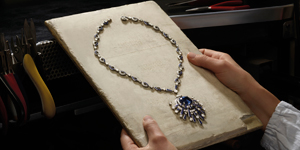 Bulgari Festa delle principesse necklace in platinum with 1 cushion blue sapphire  weighing 36.45 cts
 
Healed with Sapphire
 Sapphires were often associated with healing. They were said to act as an antidote to poisons, but they were especially used to heal eye complaints. The first recorded mention of this dates back to 1391, but the Ancient Egyptians used all blue gemstones for this same purpose.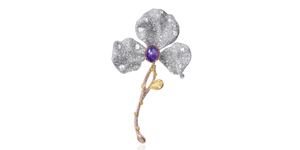 Cindy Chao Star Sapphire Floral Brooch

Star Sapphires
When some sapphire stones move, or the light changes, a living star appears. Star Sapphires are rare and are shrouded in mystical properties – 'The Asteria, or Star Sapphire, might be called a 'Stone of Destiny', as the three cross-bars which traverse it are believed to represent faith, hope, and destiny. It is believed to be a guiding gem, warding off ill omens and the evil eye and a guard against witchcraft.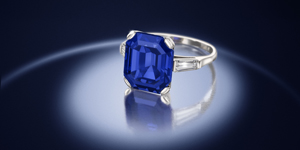 Kashmir Sapphire ring set to be sold by Bonhams

Birthstone
Although sapphires are September's birthstone, it is also linked to the star sign Taurus.